(Italiano) Primo Miglio – La sosta Low Cost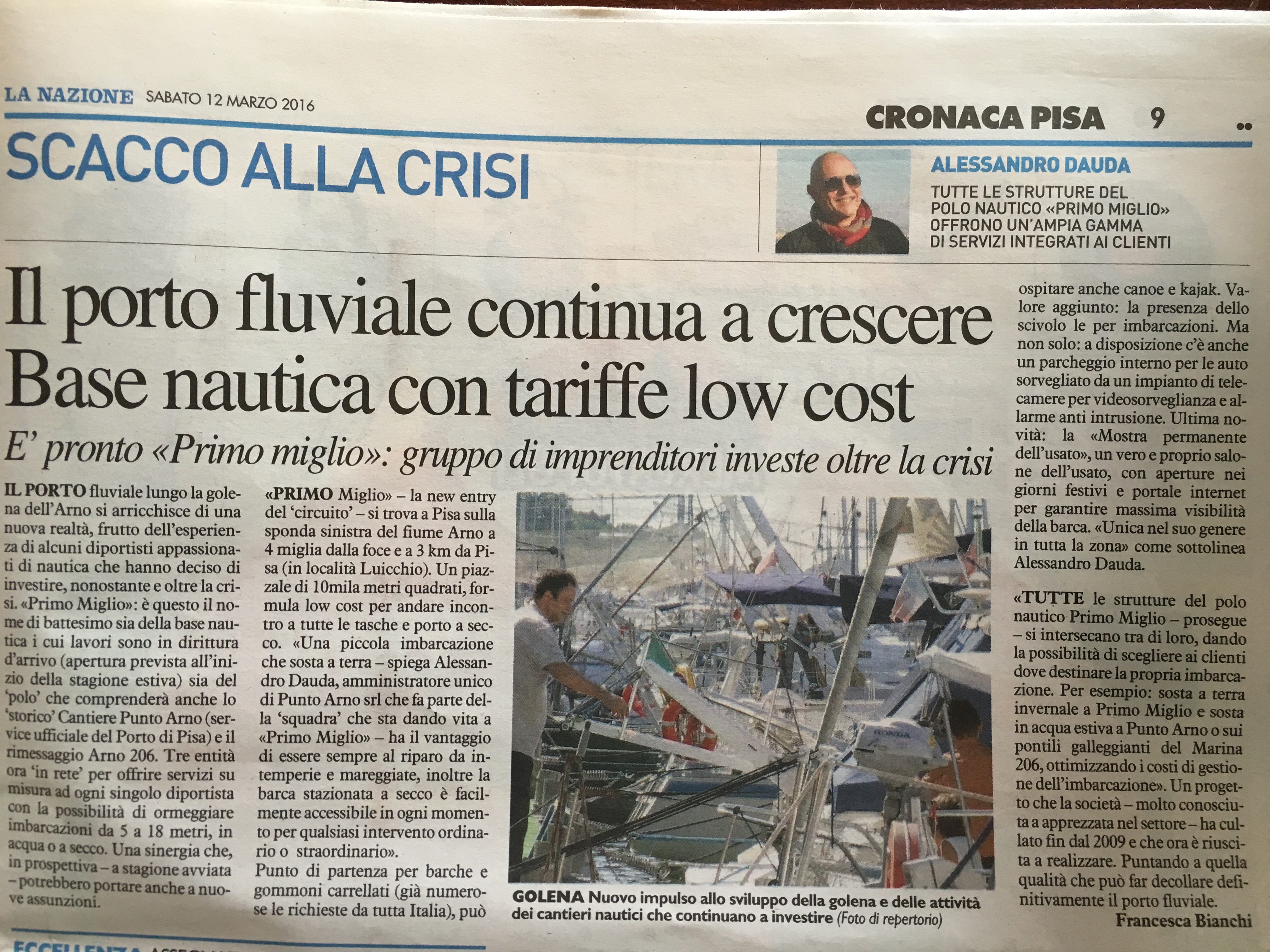 DRY PORT LOW COST
The nautical First Mile Ltd. is located in Pisa on the left bank of the Arno River 4 miles from the mouth and 3 km from Pisa, within the nature reserve of Migliarino-San Rossore Park, easily accessible by the A12 highway is 2 km exit Pisa Centro.
ADVANTAGES OF DRY PORT
A small boat stop in the ground has the advantage of being more sheltered from bad weather, storm surges and salt, also stationed Boat Dry is easily accessible at all times of the year for any ordinary or extraordinary intervention.
The dry port is undoubtedly more ecological because it is no longer necessary to make the boat antifouling and, maintaining a clean hull and consequently decrease consumption and to obtain the maximum performance.
THE REAL LOW COST
The advantages of dry port are very many, the first is undoubtedly the management of the boat's economy ..
Using Low Cost formula for resting on the ground at the base First Mile, with the use, without limitation, the chute for hauling and launching, a boat of 5 meters on their own basket with use of slide for towing and launching €. 75.00 / month including VAT.
The same 5-meter boat can choose among the various offers, the winter break ground at First Mile and summer in water in one of Marina del Polo Nautico, near the mouth, coming to spend €. 115,00 / month including VAT.
Another example … The stop seasonal winter ground, from 1 October to 30 April for a boat of 5 meters costs €. 455,00 / taxes
THE PERMANENT EXHIBITION OF USED BOATS
You can not sell your boat? … First Mile offers you a chance to stand on the ground in a permanent exhibition dedicated to the Used space, managing the boat like a real flea living room, with openings on holidays and dedicated advertising on their websites, so maximum visibility of the boat.
Do you want to try? … Bring us your boat, the first month parking is free and then decide whether to remain parked on the ground or choose from the many convenient offers the Polo Nautico First Mile